http://jamaica-gleaner.com/gleaner/20081012/focus/focus1.html
Published: Sunday | October 12, 2008
Change the names and the story remains the same - innocents are butchered, and public officials make noise but do nothing.
From the Gleaner of October 14, 2005:
"15-year-old rape victim murdered - Rape trial slated for court next week ...
"This is the third child murder to have occurred in [Westmoreland] this year. Two young girls, Shaneka Shakes, nine, and her friend, Shauna-Kay Ledgister, eight, were found raped and murdered in a cane field ... in July.
"In the Corporate Area, there have been a rash of murders involving children, a three-month old child was killed in Mountain View last month, and just last week, 10-year-old Sasha Kay Brown was burned to death after her house on Barnes Avenue in the Maxfield area was firebombed by armed thugs.
"A lot of children have been killed in a short space of time .. it has gone over 12 in the last two months, clearly, we are very concerned ..." said Allison Anderson, head of the Child Development Agency.
From the September 29 Gleaner:
"Tragic end - body found believed to be that of 11-year-old Ananda Dean ..."
MP Karl Samuda ... "It is absolutely devastating what is happening in our society."
From The Gleaner, October 2, 2008:
"Outraged - leaders horrified by wave of attacks on children ...
"Calls flooded radio talk shows with condemnation yesterday as news spread about the death of a nine-month-old child who was allegedly sexually assaulted in Arnett Gardens ... Information Minister Olivia Grange, lashed out at the criminals, and Opposition Spokesperson on Youth, Lisa Hanna, expressed horror ... They were quickly joined by the Office of the Children's Advocate ...
"Grange ... argued that, as a nation, Jamaicans cannot remain passive while criminals roam with impunity. We must commit ourselves to take a concerted stand for the elimination of all forms of violence, but especially against our children."
Sasha Kay vigil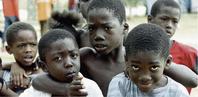 In October 2005 Nationwide Radio organised a vigil for Sasha Kay Brown. No politician turned up. Not the then prime minister, P. J. Patterson. Not the then Opposition leader, Bruce Golding. Not the then minister for children affairs, Portia Simpson Miller. Not area MP Omar Davies. Were they not horrified by the deliberate burning death of an innocent little girl? Were they incapable of putting basic human decency before political manoeuvring?
To me this symbolised a new low in the political morality of this country. It was a clear public signal that our elected officials really don't give a damn about anything but their selfish, myopic, nasty, destructive, tit-for-tat version of politics.
Talk, no matter how drenched in anguish and tears, is cheap and useless. Only laws and education change behaviour. If our leaders were truly outraged and devastated by the slaughter of innocents, they would pass legislation designed to change the behaviour that leads to such tragedy. And the chief priority here must be to get men to act more responsibly towards their own offspring. In all societies around the world, the first line of defence against child abuse is the father. Anything bad that can happen to children is far more likely to happen to those whose biological fathers play no role in their lives.
In my view, two straightforward laws would immensely improve the welfare of our children. One is a Chilean-style paternity law that gives mothers the right to put the father's name on the baby's birth certificate, with court-ordered DNA testing where there is doubt.
Another is mandatory reporting, testing and sentencing laws for underage pregnancy - medical authorities report any under-16 pregnancy to the police, anyone suspected of being the father is DNA-tested, and any match means a mandatory jail sentence for carnal abuse. Exception would be made for 'puppy love' cases. And naturally, government assistance would be given to the young mothers.
To my knowledge, the only politicians to show interest in these matters are Central Kingston MP Ronnie Thwaites, Central Clarendon MP Mike Henry, US Ambassador Anthony Johnson, and former PNP Region Three Chairman Paul Burke. Where are the female voices on fatherlessness and underage pregnancy? Damn good question.
Compelling document
Burke recently sent me a document which anyone with a conscience must endorse.
It's dated June 14, 2008: "To News Editors, Media houses:
1. Resource Group Seven ... is repeating our call for legislation requiring compulsory DNA paternity tests in all instances where there are non-registration of fathers, because of issues of paternity ... the fact that many children do not know who their fathers are, and that so many fathers refuse to accept their responsibility, and therefore do not provide emotional, financial and material support, continues to leave deep psychological scars on our children and the Jamaican society.
"Resource Group Seven is convinced that much of today's social problems result from absentee fathers and poor parenting. Too many Jamaican mothers are carrying the burden of being 'mother, father, protector and sole breadwinner' for their children, thereby leaving many children disadvantaged.
"Male underachievement in the school system as indicated in several recent studies, the abuse and disrespect of women, and the high level of violence are all partly, or perhaps largely, due to the absence of positive and strong male role models in many Jamaican families. We are convinced that much of the country's crime problems is partly due to the almost now institutionalised social norm of so many of our young males not having a positive male role model in their lives.
"Resource Group Seven will continue to advocate that the compulsory registration of fathers is a first and significant step to have delinquent fathers accept their responsibility and, therefore, is important and essential legislation for the country to go forward.
"2. Resource Group Seven also wants legislation to allow the Jamaica Constabulary Force to commence the establishment of a DNA database for all underage mothers and all statutory rape cases in which the evidence is still intact, so that in future the DNA reports coming up in any criminal cases can be cross-matched. This will mean that persons will be able to be charged and arrested even several years after they have committed the offences, a deterrent to men molesting underage girls."
Yet, is it only the men's fault why less than 50 per cent of babies born last year had registered fathers? Surely, our women need to accept the importance of active fathers in children's upbringing?
DNA testing for teens
The Gleaner reported on October 8 that "Ronald Thwaites wants the Government to implement laws for mandatory DNA testing for persons connected to underage girls who get pregnant. [Prime Minister] Golding said [this] was something he would be prepared to endorse."
Time will tell whether this is only more mouth talk. After all, we don't want to embarrass the big men, do we?
I'm a patriotic Jamaican who feels blessed to have been born in the most beautiful and exciting island on earth. But don't we all feel ashamed of the constant litany of children being raped and killed? Truth be told, after last week's headlines, the Olympic champions hoopla left me a little cold. Yes, Beijing made us proud. But 1,000 gold medals cannot wash away the blood of a single helpless child.
So, we are begging you, Mr Prime Minister and Madam Opposition Leader, to put politics aside for once. Call a joint televised press conference, and promise the nation to implement all sensible measures used elsewhere to protect the vulnerable young. Demand that your parliamentarians and senators push through the needed legislation ASAP. Please help save our children, Bruce and Portia.
Yet, leaders can only set the tone. Change only comes through the people. And if we all can't unite to protect the defenceless, we are an irredeemably sick society.